Law Enforcement Toolbox
Secure Toolbox Solutions For Police Vehicles, Federal Agencies & First Responders
Are you responsible for the safety and security of law enforcement officials? Our SSB Series provides additional secure storage, and is able to fit nearly every law enforcement vehicle currently protecting our cities and towns. These toolboxes, constructed from the best materials available, are high-end accessories intended for law enforcement and first-responder SUVs and vehicles.
We are proud to have created the most secure vehicle storage solutions for a wide variety of our nation's protective service organizations including:
State Police Departments
Municipal Sheriff & Police Departments
Federal Agencies—GSA Authorized
SWAT & Tactical Teams
Fugitive Arrest Vehicles
Fire Fighting Engines
Paramedic & Ambulatory Services
Private Citizens seeking that extra step of security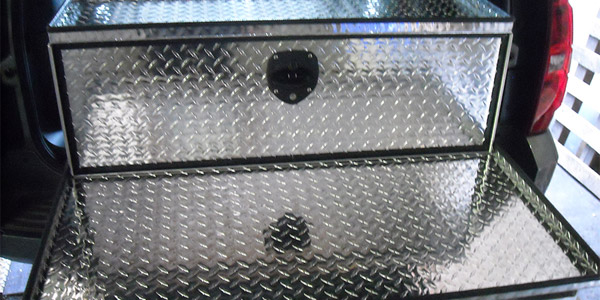 Secure Tool Box
The highest quality, perfectly customized accessory designed and built to securely store all of your for law enforcement equipment.
Secure Tool Box Double Drawer
Storing more than one box can hold? Multiple storage drawers available to protect all of your crucial hardware.

All of our Law Enforcement Boxes are fully loaded with the following features:
1 or 2 Drawer Options
1/8" Thick Diamond Plate & 1/8" Smooth Aluminum Construction
Heavy Duty Teflon Slide Rollers For Fast & Efficient Access
Stainless Steel T Handle Locking Mechanisms
Tamper Proof Stainless Steel Screws
Upgradable To Include Power Coating, Additional Locks, Increased Drawer Face Thickness & Welded Dividers
Standard & Custom Sizes Available
Every Truck-Tool-Box Law Enforcement box is covered by our exclusive 10 Year Warranty!